Comitment to new work
Archieve of commissioned works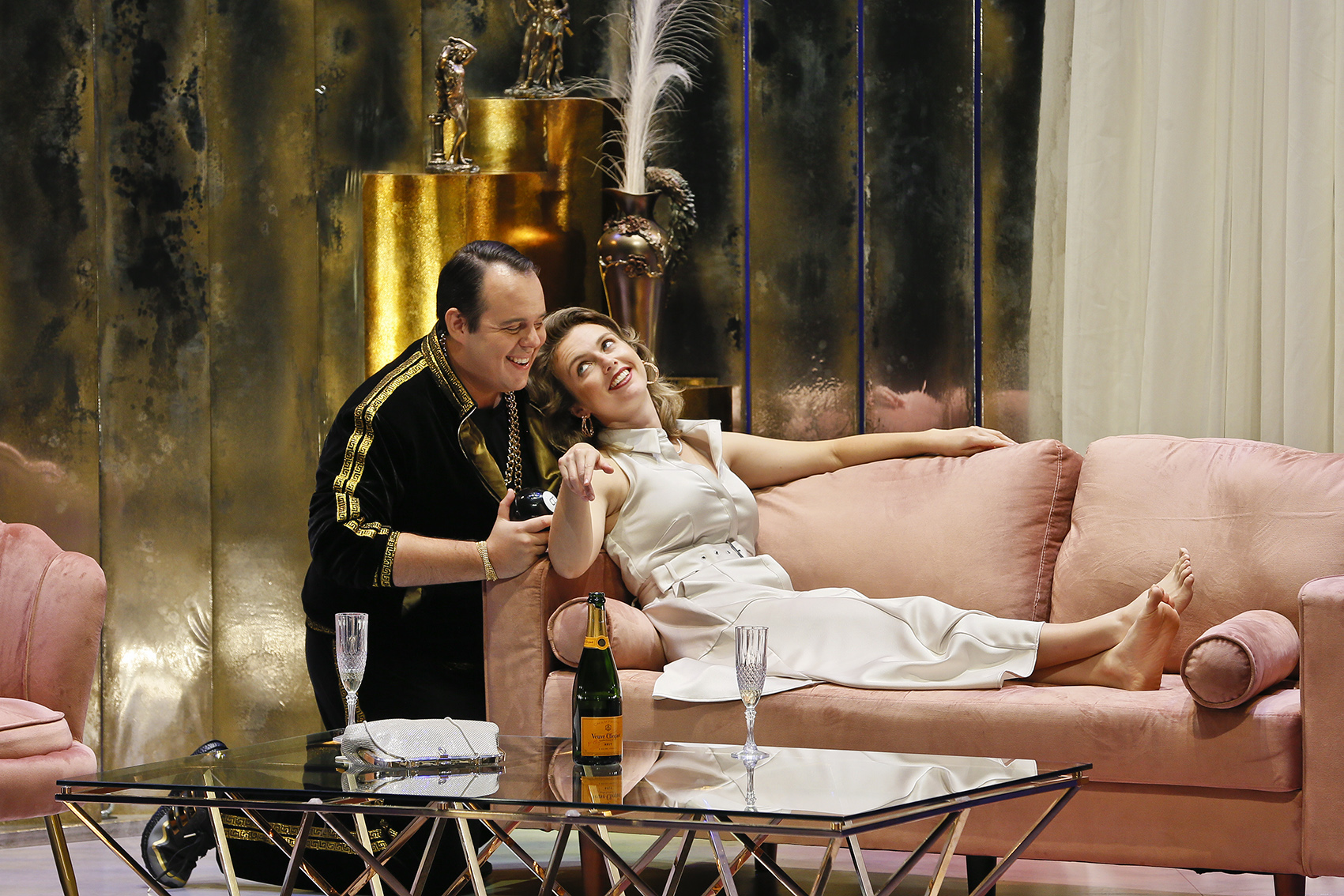 Comitment to new work
Victorian Opera is committed to developing new Australian opera and talent.
Since the company was formed in 2005, we have proudly commissioned 32 new works.
From adaptations of celebrated Australian books to pastiche works to youth and community operas, Victorian Opera presents at least one new Australian work every year. These works have enriched the national musical landscape engaging some of Australia's best composers, writers and performers, and winning numerous awards.
Archieve of commissioned works
2023
The Visitors
Composer Christopher Sainsbury
Librettist Jane Harrison
Galileo
Composer Richard Mills
Librettist Malcolm Angelucci
2022
The Butterfly Lovers
Composer Richard Mills
Librettist Joel Tan
A Christmas Carol
Composer Graeme Koehne
Librettist Anna Goldsworthy
2021
Echo and Narcissus / Cassandra
Composers Kevin March (Echo and Narcissus), Simon Bruckard (Cassandra)
Librettists Jane Montgomery Griffiths (Echo and Narcissus), Constantine Costi (Cassandra)
Parrwang Lifts the Sky
Composer and Librettist Deborah Cheetham
2020
Three Tales (online premiere)
Composer Zac Hurren (A Simple Heart),
Composer Dermot Tutty (The Legend of St Julian the Hospitaller)
Composer Stefan Cassomenos (Herodias)
Librettist Daniel Keene after Gustave Flaubert's original work
2019
Alice Through the Opera Glass
Composers Various
Text Emma Muir-Smith
Oscar and Lucinda
Composer Elliott Gyger
Librettist Pierce Wilcox after Peter Carey's original work
Art Music Award – Best Opera
The Selfish Giant 
Composer Simon Bruckard
Librettist Emma Muir-Smith after Oscar Wilde's original work
Green Room Award – Musical Achievement (New Australian Opera) – Simon Bruckard and Emma Muir-Smith
2018
Lorelei 
Music Julian Langdon, Casey Bennetto and Gillian Cosgriff
Orchestration Julian Langdon
Lyrics Casey Bennetto and Gillian Cosgriff
Concept Ali McGregor
Green Room Award – New Australian Work – Julian Langdon, Casey Bennetto and Gillian Cosgriff
Green Room Award – Design – Marg Howell (Set/Costume)
2017
'Tis Pity
Composer and Arranger Richard Mills
Operatic Libretto Richard Mills
Additional Material Cameron Menzies and Meow Meow 
The Snow Queen
Composer Gordon Kerry
Librettist John Kinsella after Hans Christian Andersen's original work
2016
Voyage to the Moon 
Musical Arrangers The late Alan Curtis and Calvin Bowman
Writer Michael Gow
Banquet of Secrets 
Score composed by Paul Grabowsky
Book, Lyrics and Original Story by Steve Vizard
The Pied Piper 
Composer and Librettist Richard Mills
Laughter and Tears 
Composer Various (Laughter), Ruggero Leoncavello (Pagliacci)
Librettist Richard Mills (Laughter), Ruggero Leoncavello (Pagliacci)
2015
Alice's Adventures in Operaland
Composers Various and Richard Mills
Librettists Various and Elizabeth Hill-Cooper
Remembrance 
Composer Richard Mills
Librettist Rodney Hall
The Grumpiest Boy in the World 
Composer Joseph Twist
Librettist Finegan Kruckemeyer
Seven Deadly Sins 
Composers and Librettist Julian Langdon ('Prologue', Adelaide/Gluttony, 'Epilogue')
Composer and Librettist Mark Viggiani (Hobart/Envy, Perth/Anger),
Composer and Librettist Ian Whitney (Brisbane/Sloth, Sydney/Lust)
Composer and Librettist Jessica Wells (Melbourne/Greed, Canberra/Pride)
2014
The Riders 
Composer Iain Grandage
Librettist Alison Croggon after Tim Winton's original work
Green Room Award – New Australian Opera
Green Room Award – Male Lead – Barry Ryan
Art Music Award – Choral/Vocal Work of the Year (2015)
The Play of Herod 
Realised by Richard Mills
Librettists The Fleury Playbook and Richard Mills
2013
Sleeping Beauty 
Composer and Librettist Richard Gill
The Magic Pudding – The Opera 
Composer Calvin Bowman
Librettist Anna Goldsworthy after Norman Lindsay's original work
Green Room Award – Ensemble (Opera) 
2012
Cinderella
Composer and Librettist Richard Gill
Midnight Son
Composer Gordon Kerry
Librettist Louis Nowra
Green Room Award – New Australian Opera
Green Room Award – Direction – Nicki Wendt
2011
How to Kill your Husband (and other handy household hints)
Composer Alan John
Librettists Alan John and Timothy Daly after Kathy Lette's original work
2010
The Parrot Factory
Composer Stuart Greenbaum
Librettist Ross Baglin
The Cockatoos
Composer Sarah de Jong
Librettist Sarah Carradine after Patrick White's original work
2009
Rembrandt's Wife 
Composer Andrew Ford
Librettist Sue Smith
Green Room Award – New Australian Opera
2008
Through the Looking Glass
Composer Alan John
Librettist Andrew Upton
Green Room Award – Best New Operatic Work