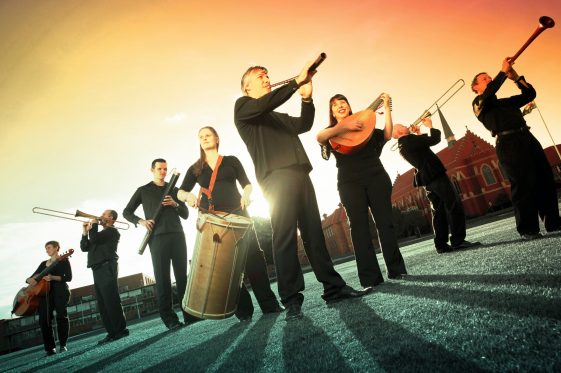 Directed by Danny Lucin, La Compañia formed to perform music of the renaissance and early baroque. The ensemble brings together Australia's leading specialists on period instruments, creating a consort rich in possibilities.
A line up of historically important instruments allows for exciting sound combinations reflecting the various instrumental groupings of the period.
The group follows the sixteenth century performance practice of ornamentation, diminution and embellishment. Their vibrant musicianship combined with their improvisatory skills has established La Compañia's reputation with both audiences and critics for presenting dynamic performances.
Setting benchmarks in Australian early music performance, their innovative programming has unearthed some of the most beautiful and fascinating music of the 16th and 17th centuries delighting audiences with many Australian premieres. The group is also in demand to perform larger scale polyphonic works of the period, such as their highly acclaimed performances of Monteverdi's Vespers of 1610.
La Compañia's credits include concert performances, major Australian arts festivals, international feature films, television appearances, national and international radio broadcasts, touring, CD recordings as well as their popular Melbourne Subscription Series. They have been nominated three times in The Age – Classical Year in Review, their European festival debut was at the renowned Tage Alter Musik Regenseburg, Germany and they have released four commercial Cds; Music from the Spanish Renaissance, El fuego – The fire,  Ay Portugal and Destino Mexicano to vast global  acclaim.